Central Georgia Heart's History
Central Georgia Heart Center has been serving the people of Macon, Georgia for over 30 years. Enjoying the highest reputation in the area, we have four interventional cardiologists, two general cardiologists, and two electrophysiologists. We currently have five nurse practitioners specializing in cardiac medicine. We employ some staff that include highly trained cardiac nurses, a variety of technicians that provide echocardiography and nuclear SPECT and PET imaging of the heart, and certified medical assistants trained to support our clinicians. Our focus is on providing the most reliable cardiology in Central Georgia.
Dr. Zoe Jones is the most senior partner of the practice, having joined the original founding partners, Dr. John Hawkins and Dr. Mark E. Dorogy in 1996 and 1997 respectively. The practice has continued to grow over the years and we have recently moved into a new 14,000 square foot facility on Forsyth Street in Macon that includes new state-of-the-art PET imaging capability, the only dedicated cardiac PET in Central Georgia.
Central Georgia Vein Center is now a part of our Macon location, with Dr. Kingman and Dr. Ellis providing advanced treatment of varicose veins, spider veins and other venous diseases and venous insufficiency of the legs. Our physicians bring years of vascular expertise in treating venous conditions.
Comprising some of the most academically qualified and well-trained cardiologists in Georgia with over 130 years of combined cardiology experience. Each of our doctors and nurse practitioners brings their own diversity and expertise to the practice, making Central Georgia Heart Center the premier cardiology group in the region.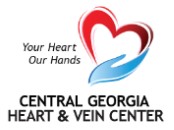 "Give us a call at 478-741-1208 and one of our friendly representatives will be more than happy to answer any of your questions, or schedule an appointment for you."
"I had a stress test yesterday, and I was very impressed with your staff. I normally have a very hard time with IV's…my veins are small and I usually get stuck several times, veins blow or roll. Your guy got the needle in on the first try, and painlessly"
"World class Cardiologists! They recently performed ablation surgery on me. They were extremely knowledgeable, understanding and patient. They spent a considerable amount of time with me in appointments so that I understood my options available to me, and they supported me in my decisions. I have received excellent compassionate care and I know this team is looking out for my best interests."
"CGHC did a cardiac catheter ablation on me last week and has hopefully, permanently cured the heart arrhythmia I have been suffering with for the past 20 years. They are very kind, compassionate doctors, and genuinely care about getting the best results for their patients."
"I was a referral to go and see CGHC. I thought my son only had a heart murmur and that was it. Turns out he had a hole in his heart where he needed open heart surgery within 6 months. CGHC was amazing, every concern, every question they answered. They actually cared about how my son was doing. I would highly recommend CGHC and their team."
"Simply the best Cardiologist you could ask for. I trust them with not only my life, but my family's life. They treated my family and I with the utmost respect and patience as we weighed out the options I had to consider. They were there for me every step of the way and they reassured my family that my life was in good hands."